Vital Status: Alive & Well❤️
Fav Tracks: On the Move!, The Other Black Dog, Centrefold, Don't Need You, Drown, I Don't See Colour, Black Dogs!, Whip Cracker, A Song About Fishing, Bye Bye
Least Fav: Gold Chains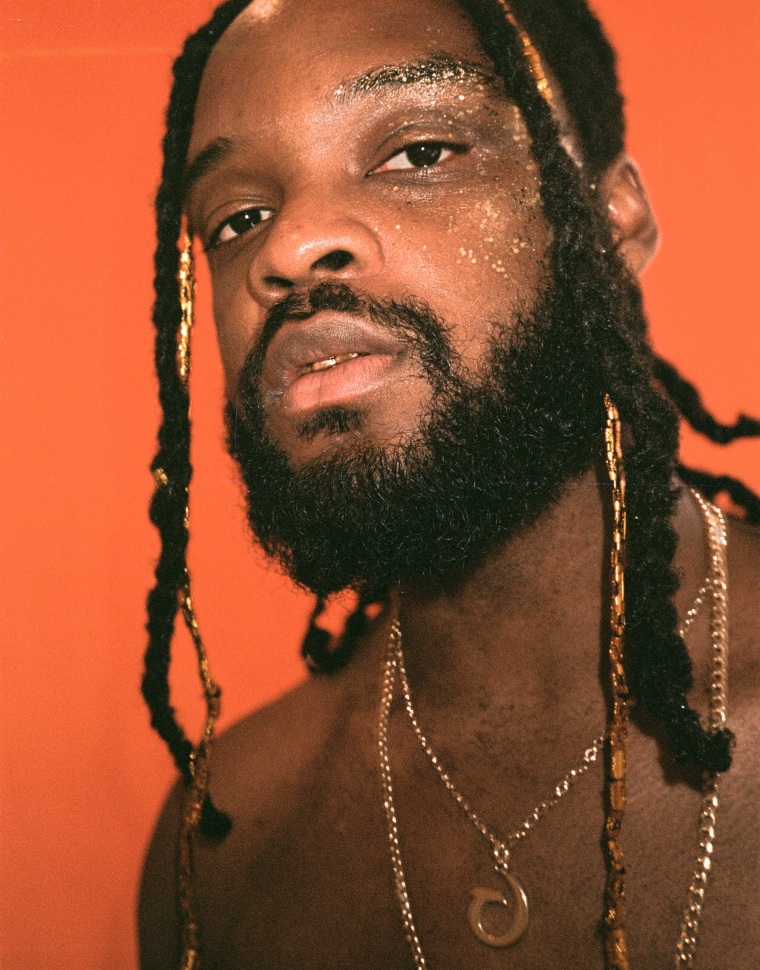 Kofi Owusu-Ansah, known by his stage name of Genesis Owusu, has delivered his fist studio album Smiling with No Teeth. Apple Music has categorized this in the genre of Alternative Rap and in all honesty, I wasn't really sure what Alternative Rap even meant. I can say without a doubt that Smiling with No Teeth is way more then just Alternative Rap. Genesis Owusu has created something that seamlessly blends soul, R&B, funk, rap, punk, and even dance pop all into one throughout this 15 song (54 minute) record.
The album has a bit of a concept that revolves around this black dog character. The black dog is an encompassing figure used to define depression and racism. We see how this all unfolds and it's a character Kofi can't escape due to internal and external forces in the world today.
The opening track "On the Move!" definitely grabs your attention right away with the upbeat electronic sounds that feel somewhat like a Death Grips song along with how Kofi delivers his lyrics. The song gives away to some softer female vocals in the second half and it feels confusing but exciting for whats to come.
We continue with the black dog character on "The Other Black Dog" that Genesis comes in with a deeper voice and flowing quite fast over these increasing synth scales. The song has some clever dark comedy lines such as
I'm being eaten on the inside, at least I look like a snack
that gives the impression that Kofi is trying to escape this struggle that's over him.
"Centerfold" is a song that show two different personalities on each verse. We do get Kofi singing in more of an R&B style here with these reversed sounds that give this wooziness to the track. The 2nd verse is like a romantic nightmare with deep and dark vocals and such a haunting line of
Put my fangs into your dome
you get this sense of an extremely grim love.
The next song "Waitin' on Ya" kind of follows suite with this type of prey and predator aspect. It's a super smooth beat with some easy going keyboard and a jazz, soul, and R&B mix that Genesis Owusu does so well.
Maybe my favorite track on the record is "Don't Need You". The chorus is just so catchy and easy followed by these heaven like vocals. All of this then turns into a funk post chorus that is a fresh example of how to blend genres in 2021 without sounding like something that's been done before.
After this we get the 80s dance-pop song "Drown" featuring Kirin J Callinan. This is, again another example of how Genesis Owusu is able to put his own style and vibe into a genre that is pretty cliche with its sound.
The song "Gold Chains" is one of the more lackluster moments on the album for me. The chorus feels a little bland over the rock production. However, I do think Kofi's lyrics on the verses about the weight over his career and everyday life are enough to keep this song entertaining along with the electric guitar playing.
About halfway through this album we get the title track "Smiling with No Teeth". The super deep and smooth woah woah woah's are great with the rhythmic slow drums. The song then transitions into this soul choir breakout that is a nice moment.
"I Don't See Colour" is a fantastic track that points out clear societal problems with racism and discrimination and calls out the people who act like they are unaware of their actions. The female vocals looped throughout the song sound great over the instrumentals.
Moving on to the track "Black Dogs!" we start to tell the album has transitioned over to the external societal view of black dogs that is racism. This is a punk track that lays out how Kofi sees the racist world when they see him.
Another one of my favorite tracks is "Whip Cracker". A track that covers the topics of women beaters, neo nazis, and slave masters is sure to be eye catching. The stripped back twinkling production with thumping drums and Kofi's voice clear and direct makes you feel the disgust in this song. Then the whole track breaks into an electric funk groovy beat that is unmatched.
"A Song About Fishing" is this soft rock folky track that for some reason reminded me of Neil Diamond. Genesis Owusu honestly sounds great over the simple piano instrumentation. I feel like this song can be interpreted a few different ways, but overall it's about reaping no benefits from the work you've done but still getting up each day to try again.
This album ends with one positive track in "No Looking Back" and one darker struggle in "Bye Bye" to close out. "Bye Bye" might be the darkest song on this album and Kofi finds himself falling back into this questioning state that ends with him still trying to figure out whether the black dog is society or himself in this life.
Smile with No Teeth has a million questions to it. Does the title refer to smiling with no teeth because you can't show your fangs? Does the title refer to smiling with no teeth as in smile anyways through the struggle? Could the title even mean putting on a smile for the world but inside you feel nothing. The way, Genesis Owusu, has constructed this album it could mean all of the above and to bring these questions into a smooth, hazy, and layered project makes for a great listen that will keep me questioning this world as well.